Quality Control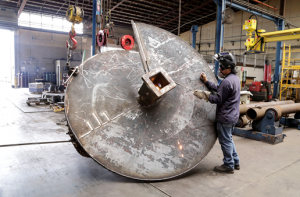 Champion Equipment Company follows strict quality assurance protocols in order to bring you safe, reliable, durable, and productive tools. We use laser and CMM (coordinate measuring machine) technology to ensure alignment of parts and general quality control of our tools.
At Champion Equipment Company we use a variety of welding techniques including: submerged arc welding, flux core welding, heliarc welding, along with CNC plasma and oxy fuel cutting. Our welders are certified to American Welding Society (AWS) standards. Champion has five, degree holding, engineers' on-staff to design our foundation drilling equipment using sophisticated CADD 2-D and 3-D design tools.
Champion uses ARP management software to track our materials, labor, and supplies. This helps ensure that our customers' orders are fulfilled accurately and promptly, in order to minimize client downtime.